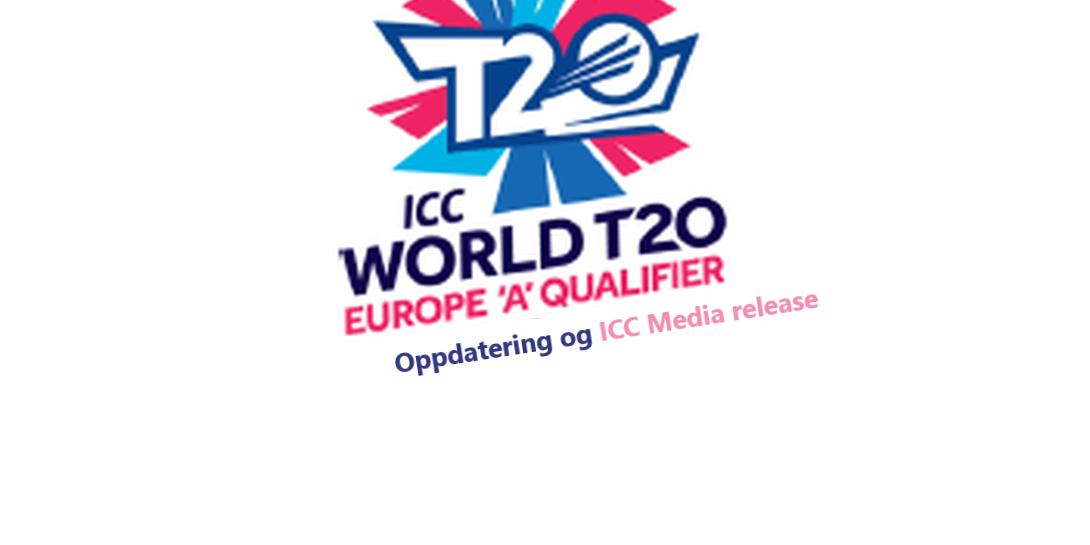 ICC T20 Europe Qualifier - oppdatering
Netherlands, 30 August 2018
FIRST DAY OF ACTION AFFECTED BY RAIN AT ICC WORLD T20 EUROPE QUALIFIER
Austria defeat Portugal and France in Deventer; Germany register win over Cyprus, but fall short against Denmark
Isle of Man come back from morning disappointment to defeat Finland in rain affected match; Italy put in a strong display with bat and ball against Spain to take the win
Sweden manage a close win over Czech Republic; Gibraltar faced heavy defeat against Guernsey
Rain rules the day as three afternoon fixtures are abandoned because of bad weather
GROUP A
Austria collect maximum points from their first two matches, completing successful chases against Portugal and France at Salland in Deventer. On a rain affected day at Kampong in Utrecht, Germany defend an amended total against Cyprus. Later in the day, the match-up between Denmark and Germany was ended by rain with Denmark 8 runs ahead on DLS.
Austria 119/4 (16.1 overs) defeat Portugal 118/3 (20 overs) by 6 wickets
Germany 179/7 (20 overs) defeat Cyprus 70/9 (12 overs) by 42 runs (DLS method)
Austria 104/2 (11.1 overs) defeat France 103/7 (20 overs) by 8 wickets
Denmark 25/0 (5.1 overs) defeat Germany 86/8 (20 overs) by 8 runs (DLS method)
GROUP B
In Voorburg, Italy kept Spain at bay after putting in a strong performance with both bat and ball. Belgium claimed the win over Isle of Man in a closely fought match in Amsterdam. Italy batted for 19 overs in their second match of the day against Jersey, before rain prevented any further play. Isle of Man came back from the disappointment of the morning to defeat Finland in another match affected by the rain.
Italy 147/9 (20 overs) defeated Spain 115/6 (20 overs) by 32 runs
Isle of Man 121/4 (20 overs) was defeated by Belgium 122/7 (19.4 overs) by 3 wickets
Jersey vs Italy (abandoned) – match to be replayed Friday 31st August at 11am
Isle of Man 136/5 (20 overs) defeated Finland 34/3 (7 overs) by 14 runs (DLS method)
GROUP C
Guernsey started the tournament with a convincing win, defeating Gibraltar by 10 wickets in Rotterdam. Sweden came out on top in a close match up with Czech Republic in Schiedam. Both matches in the afternoon were abandoned due to rain, as the clouds settled in over the south west of the Netherlands.
Gibraltar 70 all out (18.5 overs) was defeated by Guernsey 76/0 (10.5 overs) by 10 wickets
Czech Republic 111/8 (20 overs) was defeated by Sweden 112/4 (18.1 overs) by 6 wickets
Israel vs Gibraltar (abandoned) – match to be replayed Friday 31st August at 11am
Sweden vs Norway (abandoned) – match to be replayed Friday 31st August at 11am
Twelve further matches are due to be played today (Thursday 30th August). These can be followed live at https://www.icc-cricket.com/world-t20/qualifier-europe-fixtures/